No question about it: The major marketing trend of 2016 is visual marketing. Text lacks the power to communicate effectively, at least by itself; societal and technological shifts have changed the game. Consider:
Mobile phone usage has exploded. A 2015 Pew study reveals 64 percent of Americans own smartphones, nearly twice the 2011 number.
Mobile Internet access now exceeds desktop access, with the gap widening.
Mobile Internet users crave visual content, videos and high-quality images in particular.
Mobile Internet use is conditioning Americans to notice, demand and consume high-quality visual content wherever they can find it — in printed marketing materials, slide shows, digital signage, etc.
YouTube, the world's most popular video website, has more than 1 billion users.
Instagram, a recent social media entry that is photo/image-driven, already has more than 400 million active users — many of whom are in younger age groups.
Marketing professionals admit to a significant problem of content overload. Companies are producing an overwhelming amount of text-based content for marketing purposes, across all verticals. B2B and consumer markets are overwhelmed by all of this and are beginning to tune out text-only communication.
Thanks to social media and other factors, the human attention span has plunged from 12 seconds in 2000 to eight seconds in 2015, according to a widely reported study. Goldfish now have a longer attention span than humans, posing new challenges for marketers indeed!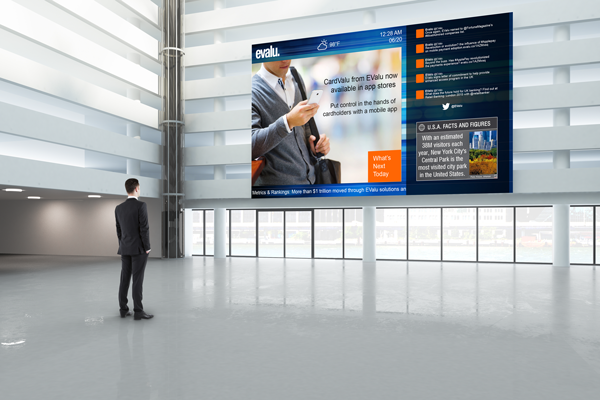 Digital Signage Solutions Take Front and Center
Companies, healthcare facilities, educational institutions and other organizations that have used digital platforms as internal communication tools for marketing are now in an environment where they can obtain a terrific boost in ROI by ramping up their efforts.High-quality video and imagery, in combination with text, will capture user attention, hold it, and make the message memorable.
There are several ways organizations can use digital signage to improve marketing results:
Place big screen displays in public areas — concourses, waiting areas, outdoor spaces, convention halls, etc. — with a combination of organizational news, advertisements, brand messages, headline news, weather and sports information.
Place smaller digital screens in lobbies, offices and other on-site locations with the same combination of messaging — far more useful to the organization and guests than simply broadcasting a television program.
Where digital signage is in use or put into use for wayfinding, interactive kiosks for visitor information access, meeting room agenda postings and other non-marketing purposes add marketing and branding communication to the content menu.
Short, rotating, visual messages with an emphasis on high-quality imagery enable organizations to reach and influence people by accommodating their preference for visual information and their short attention spans. Digital marketing solutions have gone from a marketing frill to a necessity. Are you ready to meet the challenge?
source: rmgnetworks.com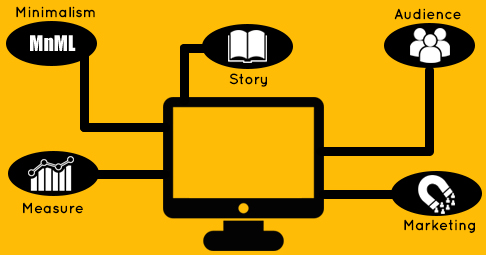 There are many digital marketing techniques for a business to adopt. The fundamental problem that many companies face is determining where to start when there are so many channels in which digital marketing can be done. One of the biggest mistakes that many companies make is trying to adopt all channels for their promotions and hence end up not making their presence felt in any of the channels.
Below are a few popular digital marketing techniques
Minimalism
The best success story of adopting a minimalistic design is Apple. While designing an Ad, use typography and keep the content short with words that convey the message right away. The attention span of people is less, try to retain their attention with short easy to read action words, use taglines to convey the message. Use simple images that convey the whole story, avoid visual clusters. Imagine if a person clicks on a video only to find that it is too long to spend time on, he or she will immediately close the video and look for something else. Adopting minimalistic design in images, videos, pages, content etc will help convey the message better. For more on minimalism please refer to our blog-  http://webdefy.com/minimalism-think-more-design-less/
Tell a story that makes an impact
Storytelling can be used by businesses and entities of all sizes because all it requires is imagination and creativity, not money. It brings your brand alive and helps build an emotional connect with the customers and its proven be one of the best digital marketing techniques. According to the recently published The power of storytelling from Facebook IQ online storytelling in social media can have a direct impact in-store purchases. Tell an effective story which connects with the customers and introduce a call-to-action button at the end. The effective combination of good storytelling and call-to-action button has proven to be successful for many businesses. A good example of a brand campaign, which connected with its customers through storytelling, is The Kickstarter campaign that started out asking for $10 to make potato salad yet ended up making over $55,000 showed us the true power of storytelling. People contributed, not out of necessity or desire for potato salad, but simply because they could relate to the story presented and wanted to be a part of it.
Build an audience
Once you have clearly identified who your customers are going to be, determine how often they engage with your brand. Use techniques of storytelling to help build an emotional connect towards your brand. Keep your audience engaged through channels that you have chosen to reach out to your customers and measure the customer engagements. Put your customers at the center of your business and see a gradual increase in your customer base. This is one of the tedious digital marketing techniques but can give long lasting results.
Use inbound marketing, it works better
Inbound marketing techniques such as SEO, good content creation, social sharing, blogging, good landing page creation etc have been proven the most effective ways to reach customers. Inbound marketing techniques are being used by more than 92% of the companies to increase their traffic. Create a good landing page; results suggest that landing page tops the list of good inbound marketing techniques used to generate leads for business. Adopt search engine optimization techniques so that search engines rank your websites better. Creating the right and user-friendly content and enhancing the user experience on your site is the key in being ranked better by the search engines. Help your businesses grow organically using inbound marketing techniques and see it advertise itself!
Measure your approaches
The failure of most digital campaigns attribute not only to poor Ads and the people behind the campaigns, but also the lack of structured thinking about the purpose of the Ad- like, who are the target audience it has to reach? How will it reach the audience? Etc. Failure to measure the successes or failures of various approaches is also one of the reasons why campaigns fail. Set a clear objective for the campaigns, identify the segments you want to target, select your channels to reach the target audience strategically, observe the behavior of your target audience. Use analytics tools like Google adwords key planner to determine the most popular keywords to build your content. Measure the time people spend on your website and bounce rate .
Planning a good strategy for digital marketing is the key to getting ahead of your competitors. The ability of a business to thrive in today's world is determined by how well it is able to adapt to the digital media. It is very important to learn to engage with the audience in the digital space and by that, you can see visible growth in your profits.
source: Webdefy