5 Ways to Use Social Media Automation in Your Marketing Strategy
1. Post When Your Audience is Online
You don't want to sit by the computer all day and night posting content, do you?
Of course not!
Automation lets you schedule your posts ahead of time. But more than that, it allows you to get your content in front of your audience when they're most active.
Now I'm sure you've read one of those articles telling you the best time to post.
Know what the problem is with each one of them? They aren't you and don't run your social channels.
Each business (and social network) is unique. The only way to know your best time to post is to dig into your analytics.
Armed with that information, you can make data-driven decisions.
True Social Metrics is a tool I use daily to better understand when and how my audience is spending their time online.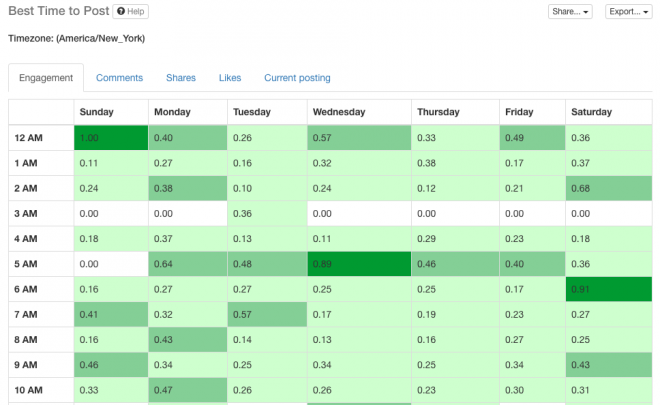 Analyzing the data lets you see when your customers are interacting with you online. Rather than throwing posts out hoping for an outcome, you predict it with data.
Once you know your best times to post, take those and add them to your favorite social media management tool. For me, that's Post Planner and Sprout Social.
In Post Planner, I can add those times to my unique Plan. Now here's where the automation comes in.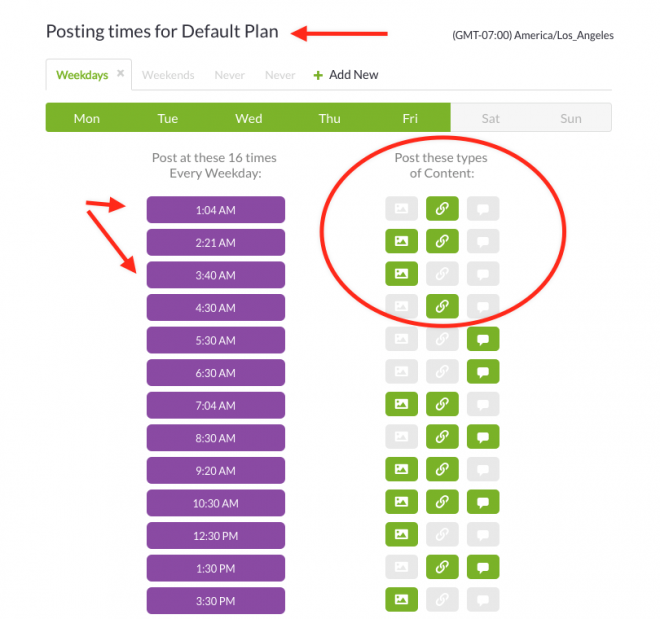 When I add content into my Plan, it's then scheduled based on those pre-determined times. It also sorts based on the type of content.
No dragging and dropping or scheduling. Just add my favorite content and let the system do the heavy lifting.
Pretty cool, right?
Sprout Social has a similar feature. Add your perfect times to post to your Queue and drop your content in.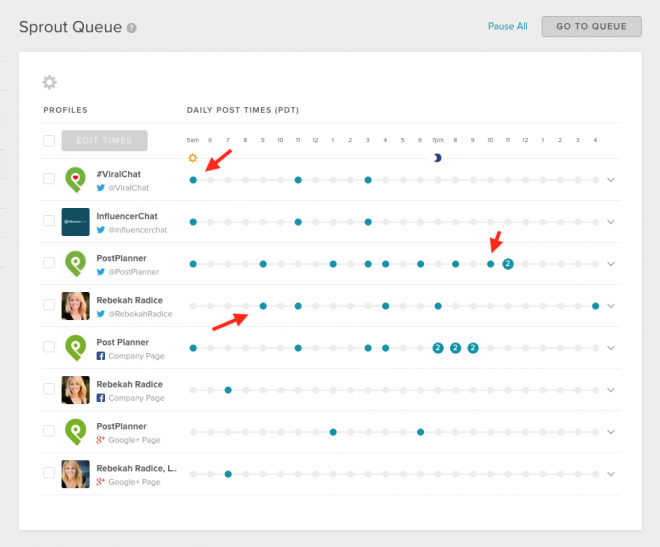 Remember, nobody knows your audience as well as you do. So do some research and get to know them – find out when they are most active.
And for goodness sake, stop getting online at all hours of the night to post content. Your business (and your personal life) deserve more than you can give without automation.
2. Automate Your Evergreen Content
It's no secret that your audience misses most of what you post on social media. Cutting through the noise is harder than every these days.
To capture attention, you need an easy way to stay top of mind.
That's where evergreen content comes in.
What's evergreen content? It's content that never gets outdated or stale. It provides value to your audience, no matter if you post it today or a year from now.
And adding it into your automation plan keeps it fresh and in front of a whole new audience. This is exactly the type of content you want to recycle and repost.
One tool that's particularly handy in reposting evergreen content is Tailwind.
If you're a fan of Pinterest and its magical traffic converting powers, Tailwind is for you.
Pin your evergreen content – blog posts, quotes, guest articles – you name it. Let it show up in your boards and the group boards you belong to.
To be clear, this is not about pinning large amounts of unwanted or repetitive stuff. (against Pinterest TOS)
Don't be a spammer or "that" Pinterest user.
It's about sharing your most valuable content with a unique audience eager to consume it.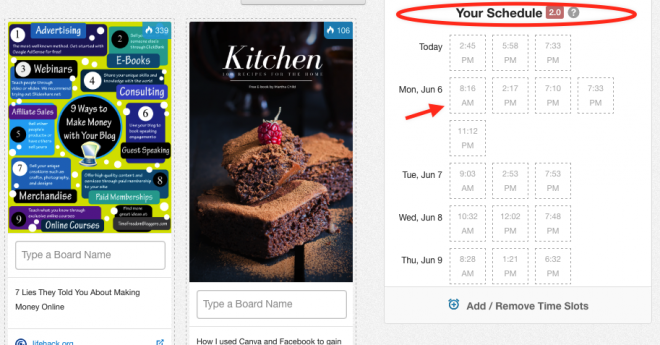 3. Set up Automation Between Various Social Media Networks
Most social media automation tools only cover a handful of social networks. That makes cross-promoting a challenge.
The good news is that you can use IFTTT (If This Then That) to set up consistent automation.
How does this work?
Let's say for example, you want to tweet every Instagram pic as a native Twitter photo.
With IFTTT, it's as easy as creating a recipe.
A recipe allows the system to take action. When something happens on one network, it triggers another action on another network.
To create a task in IFTTT, start with your recipe. It's a quick process that's a one-time setup.
Or you can use others pre-created recipes like this one.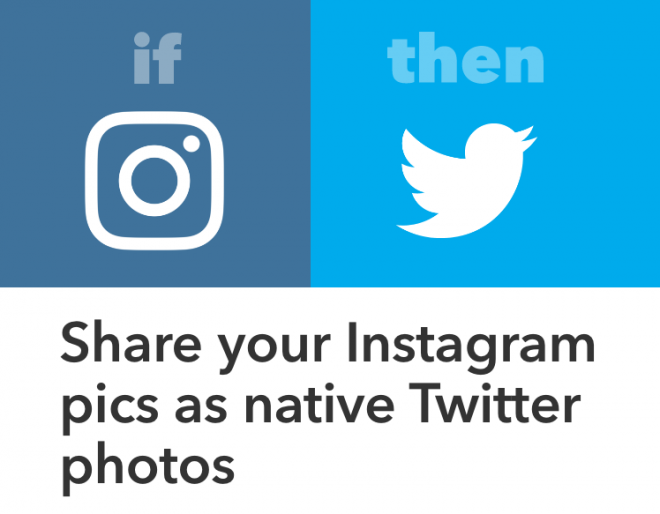 Whatever you're looking to do:
Share Instagram to Facebook
Tweet your Facebook status updates
Save your new Instagram photos to Dropbox
It can all run through IFTTT.
4. Set Up Notifications to Keep You Updated on the Conversation
If you want to interact, respond, and stay engaged with your audience, timing is of the essence.
But who has the time to sit and wait for those notifications to come flying in?
In order to stay in the conversation, you need to respond in real-time.
You have a variety of options when it comes to automated notifications. You could turn them on via an app or on your smart phone.
But for me, this kills productivity.
I want to check notifications when it fits into my schedule. I don't want them screaming at me throughout the day.
One of my favorite Twitter tools is Twitonomy. This free tool let's you manage your mentions.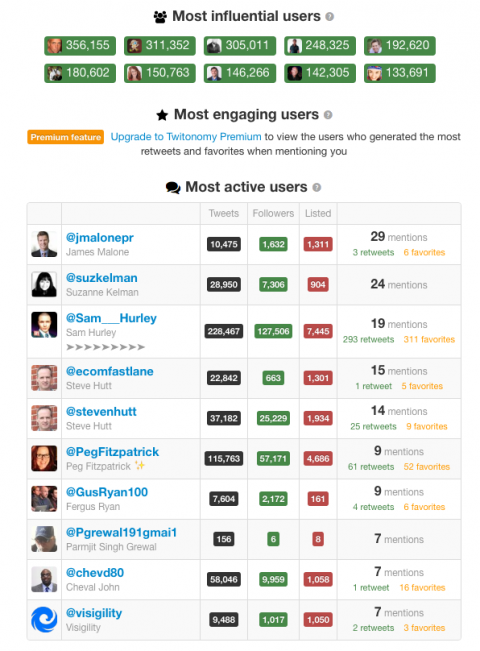 But more than that – you can see your most influential, engaged and active users. (engaged is an upgrade to a paid version)
The beauty is its ease of use. Find a mention, click on the tweet, respond, follow or even add to a list.
Within a matter of seconds, you've interacted with your audience and stayed in the conversation.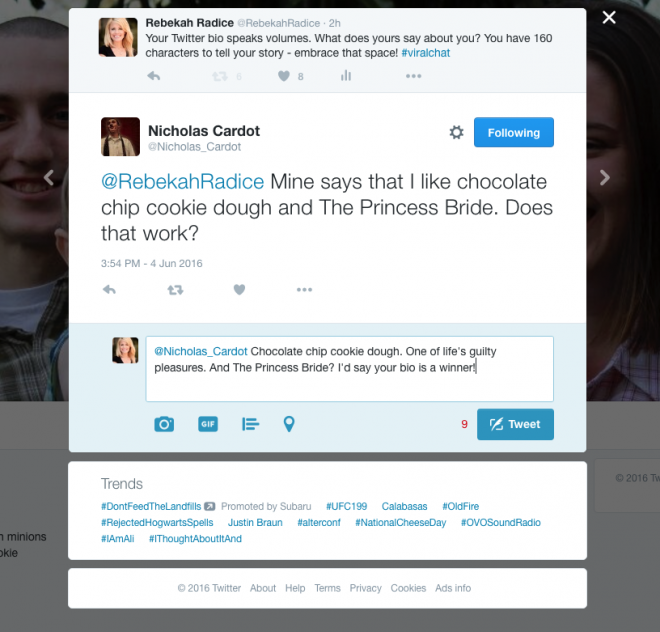 5. Let Automation Support a Strong Presence
Automation is a huge time saver.  There's no doubt about it.
But using automation will never replace human interaction.
Don't treat automation as an opportunity to kick back and relax.
Instead, use it to free you up from monotonous tasks. This will allow you to focus on what matters most – building relationships.
The best way to do this? Schedule time in your calendar and stick with it like any other appointment.
Set aside 15 minutes, 2-3 times per day. Use the time to reply to comments, answer questions, and stay in the conversation.
The keys to successful automation are this:
Read it. Never share something you haven't read. Your tweet or post is a sign that you're vouching for the content.
Infuse it. Add your personality into each automated task. In other words, add context to your content.
Personalize it. Add a personal touch to your messages and posts. Even if you're just sharing a link to a post, take a second to add your thoughts.