Brands these days are promoted in several digital channels to create a relationship with the customers, owing to the rapid evolution of Internet. Marketers have understood the scope of marketing through various digital means because of the increased use of digital devices by the potential customers.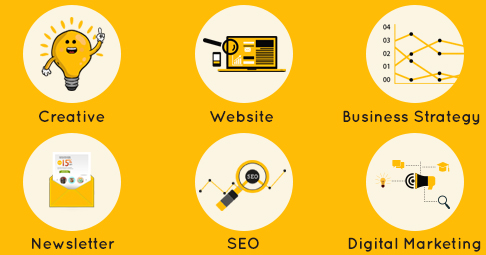 Is digital branding different from digital marketing?
Yes, these are two different terms that are more commonly mistaken as synonyms. Digital Marketing is the set tools used to promote your business online. This includes SEO, social media, PPC, local search, mobile, and traditional promotional methods and tools. Branding is the way by which the culture, character and message of your business are established and spread out to your audience. As a result of this, your business will create an impression on your audience. Branding done by digital means on digital media platforms to the right target audience is called Digital branding.
More on Digital Branding
Branding is the process of making your customers come to you by attracting them. Some of the most successful companies like Apple and Google have had made it this far only because they have established their brands so effectively among their target audiences. Some businesses do not even have a brick and mortar store; they exist only on the digital medium. Take the examples of many apps, E-commerce websites. They all have done good digital branding for themselves because of which the customers trust them. Branding is about being adaptable. You need to adapt your brand to the ever-changing preferences and lifestyle of customers or audience. Digital branding requires a high level of creativity to keep the audience engaged and interactive with your online business. Any action that you do to interact with customers for promoting or developing your business is part of establishing your brand. Branding is the overall strategy that shapes your entire business. It acts as the driving force for your business. Digital is the tool that is used for effective branding.
Digital branding is defining the image of your business to the customers and creating an emotional connect with them online. If you communicate your brand successfully, it creates some expectations in the minds of customers. Even before the purchase is made, your customers can have a good opinion or a positive feeling about your brand.
Some of the things that you need to keep in mind are
The brand needs to interact with the relevant customers in the right approach. It should be impactful to every single customer.
You need to win the trust of your customers in the digital medium. This can be done by talking about the experiences you've had in the process of establishing your brand.
Customers these days are highly informed about the products or services offered. You need to present your brand genuinely as well as creatively so that it interests your target audience.
If the customers are satisfied with your digital branding, your brand will become memorable among the masses.
Thus, digital branding is more challenging than ever before because retaining the loyal customers is very critical. When there are already many companies that are doing Digital branding the right way, it is possible for you to do great Digital Branding as well! Take your online business to a whole new level by doing impactful digital branding.
source: webdefy.com
No question about it: The major marketing trend of 2016 is visual marketing. Text lacks the power to communicate effectively, at least by itself; societal and technological shifts have changed the game. Consider:
Mobile phone usage has exploded. A 2015 Pew study reveals 64 percent of Americans own smartphones, nearly twice the 2011 number.
Mobile Internet access now exceeds desktop access, with the gap widening.
Mobile Internet users crave visual content, videos and high-quality images in particular.
Mobile Internet use is conditioning Americans to notice, demand and consume high-quality visual content wherever they can find it — in printed marketing materials, slide shows, digital signage, etc.
YouTube, the world's most popular video website, has more than 1 billion users.
Instagram, a recent social media entry that is photo/image-driven, already has more than 400 million active users — many of whom are in younger age groups.
Marketing professionals admit to a significant problem of content overload. Companies are producing an overwhelming amount of text-based content for marketing purposes, across all verticals. B2B and consumer markets are overwhelmed by all of this and are beginning to tune out text-only communication.
Thanks to social media and other factors, the human attention span has plunged from 12 seconds in 2000 to eight seconds in 2015, according to a widely reported study. Goldfish now have a longer attention span than humans, posing new challenges for marketers indeed!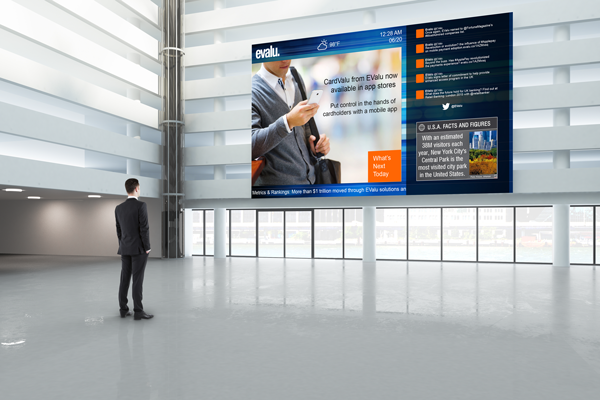 Digital Signage Solutions Take Front and Center
Companies, healthcare facilities, educational institutions and other organizations that have used digital platforms as internal communication tools for marketing are now in an environment where they can obtain a terrific boost in ROI by ramping up their efforts.High-quality video and imagery, in combination with text, will capture user attention, hold it, and make the message memorable.
There are several ways organizations can use digital signage to improve marketing results:
Place big screen displays in public areas — concourses, waiting areas, outdoor spaces, convention halls, etc. — with a combination of organizational news, advertisements, brand messages, headline news, weather and sports information.
Place smaller digital screens in lobbies, offices and other on-site locations with the same combination of messaging — far more useful to the organization and guests than simply broadcasting a television program.
Where digital signage is in use or put into use for wayfinding, interactive kiosks for visitor information access, meeting room agenda postings and other non-marketing purposes add marketing and branding communication to the content menu.
Short, rotating, visual messages with an emphasis on high-quality imagery enable organizations to reach and influence people by accommodating their preference for visual information and their short attention spans. Digital marketing solutions have gone from a marketing frill to a necessity. Are you ready to meet the challenge?
source: rmgnetworks.com